*Weight loss results may vary and are different for each individual.
In her customer interview, Susan Boomer shares her reasons for starting her New You Plan journey, revealing how she lost an amazing 99lbs and 10 dress sizes*. Plus, she shares how she went from not being able to move to walking everyday!
These are her words…
"Hi all, my name is Susan Boomer and I live in Moira, Northern Ireland. I started The New You Plan in January 2016, weighing was 24st 10lbs.
I opted for full TFR (total food replacement) because I wanted fast results. My reason for starting the plan was firstly my health – I had been suffering terrible pain in my hands, ankles and feet, which meant I could hardly walk.
Secondly, my best friend was getting married and asked me to be her bridesmaid. I did not want to be walking up the aisle the size I was and so I was desperate. I didn't know how I was going to lose that kind of weight in such a short period of time. That was until I visited my sister-in-law and she told me about The New You Plan. She had tried the plan and so gave me a variety of meals and snacks to try. I was instantly hooked!
During the first stage, ie the detox stage, I found it easier than I had expected. By the third day I did have very bad hunger pangs and occasional headaches but I found by drinking the recommended amount of 4 litres of water helped to alleviate the hunger. By the Saturday I realised I was in ketosis, so I knew great things were about to happen!

At my first weigh in I'll admit I was apprehensive. I didn't know if I had lost any weight but after stepping on the scales I found I had lost 16lbs. I was elated! I continued to consistently lose weight over the next few weeks and I really started to notice a difference in my face and shoulders. At this stage of approximately 8 weeks my total weight lose was over two stone. My determination and confidence continued to grow as I consistently lost weight every week.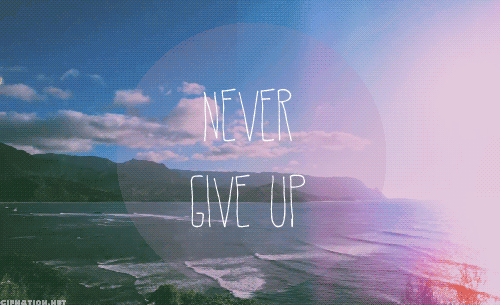 By June 2016 I had lost a whopping 7st 1lb* and I am delighted to say I have stuck 100% to the plan, which I will continue to do.
Strangers as well as people I know are coming up to me and telling me I look amazing. I'm a bit taken back but then I hold my head up high and say thank you. It feels AMAZING that people are noticing. It makes me feel so good about myself! Plus, I felt so confident at my best friend's wedding.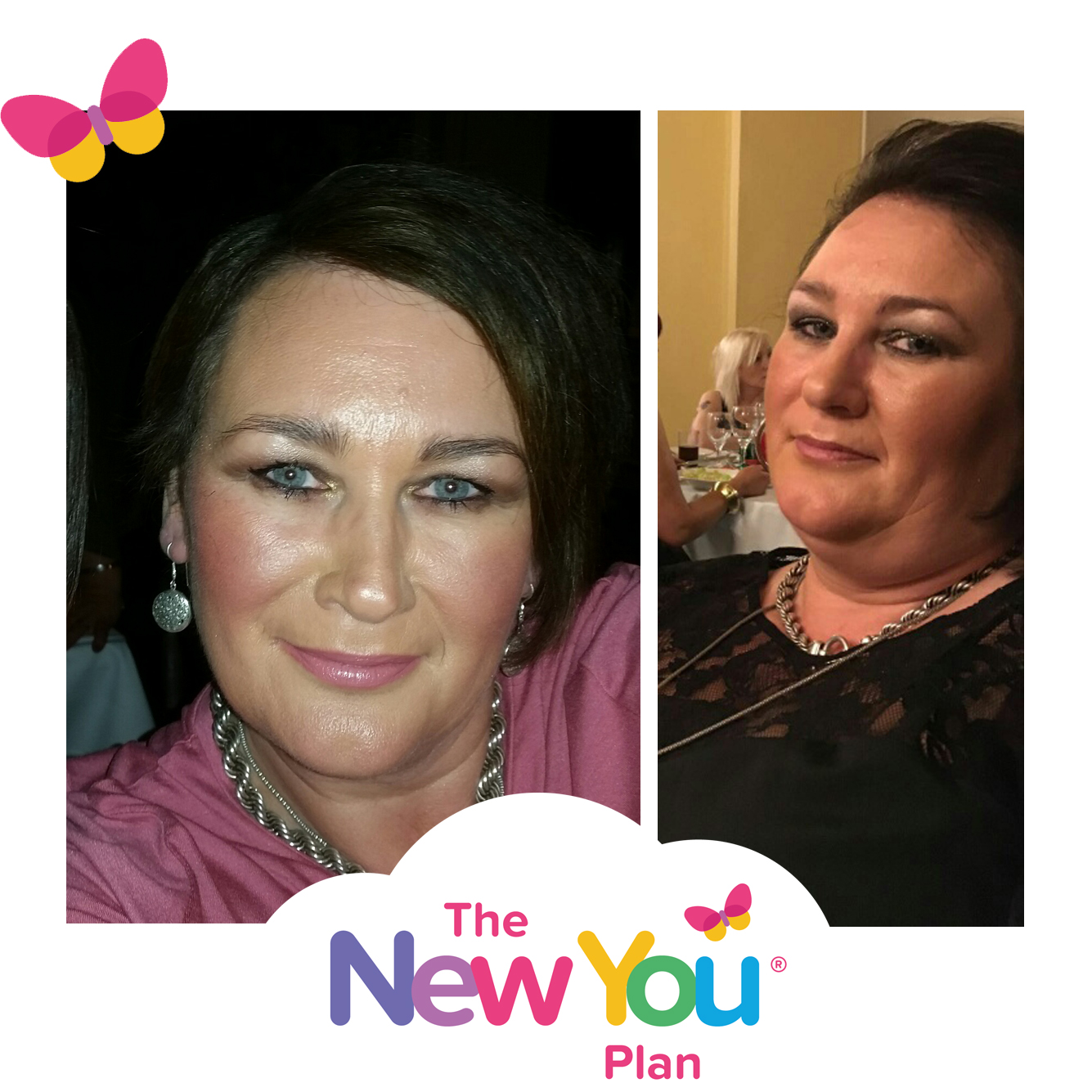 The main thing that kept me motivated and made me stick to the plan was the fact that I would go to my best friend's wedding and feel confident in my appearance. I'm also now able to walk everyday and enjoy it as before it was impossible. And finally this year when I go on my holidays I can sit comfortably in the seat and not have to ask for a seat belt extension.
When it comes to staying motivated, I can't recommend Secret Slimmers enough! I love everything about the group! I love it when someone you don't even know leaves you a comment to say I am an inspiration to them. If they just hit the 'like' button it makes me feel proud. I love reading everyone's stories and the support we all offer.

 If I could offer my top 3 tips for staying on track, they would be:
1. Dedication to the plan
2. Don't be tempted to weigh in every day
3. Communicate with other people on the plan – they are all there to help.
I absolutely LOVE the fact that I have dropped 10 dress sizes!! 
I can walk proudly into any clothes shop now. Before I did not have the confidence and bought all my clothes online. I hid behind bulky cardigans I never spoke to people. Now strangers as well as people I know are coming up to me and telling me I look amazing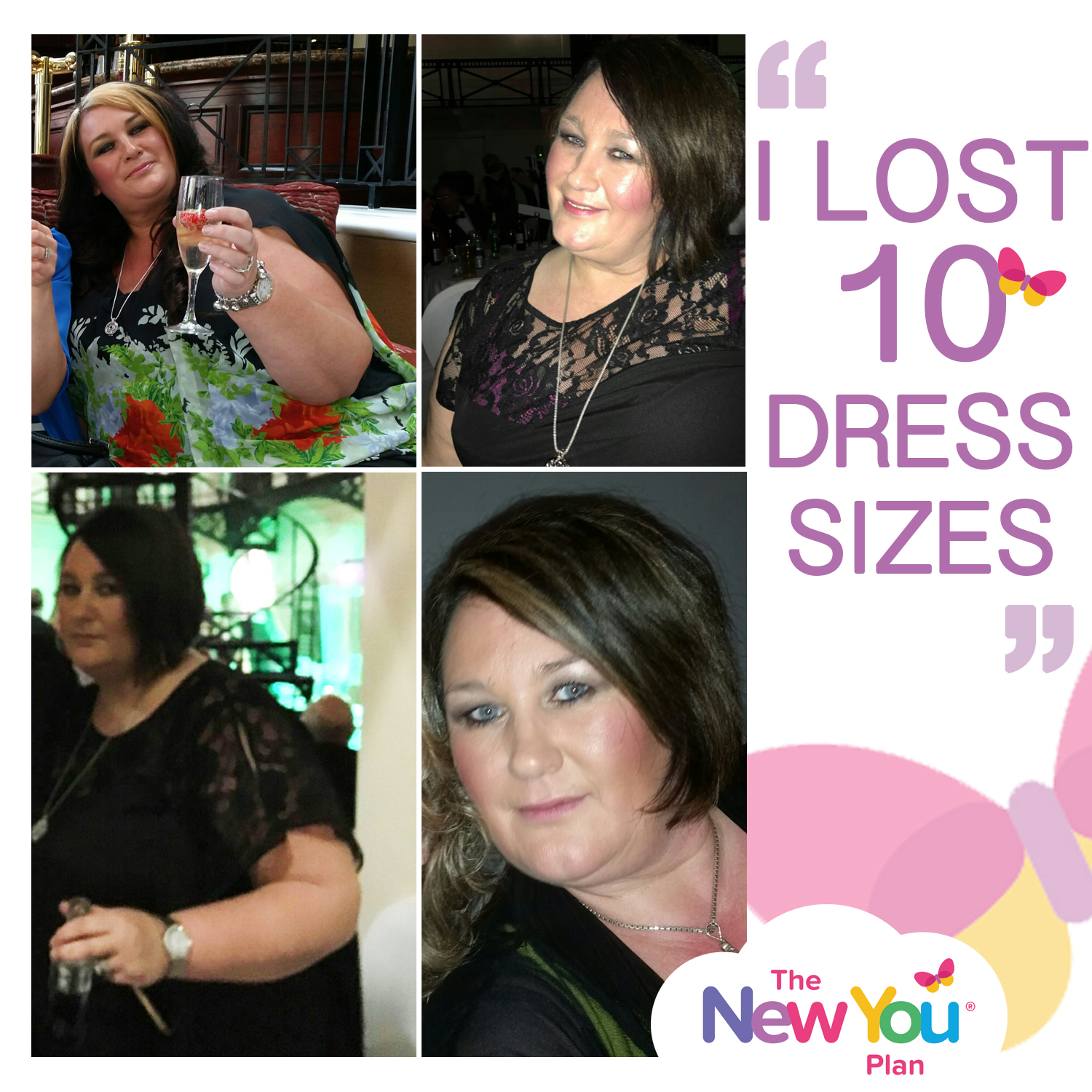 If I can do it, you can too! Start today – you won't regret it!
________________________________________________________________________________________________
 Take Susan's advice: Start your New You Plan journey today for less!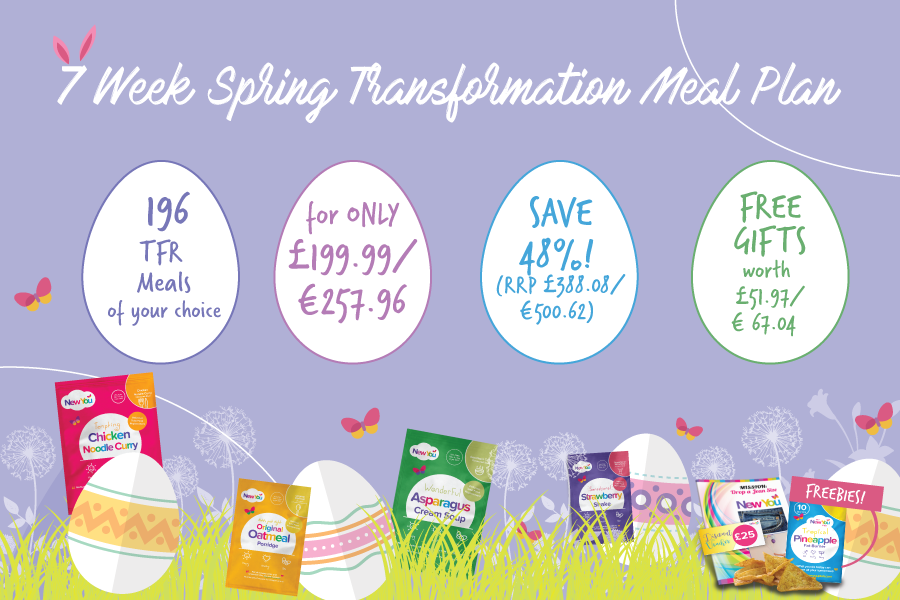 Let's face it… dieting in winter sucks! The weather is cold and grim, the days are dark and short and all we want to do is curl up inside and eat comfort food.
But then comes spring. The days are brighter, warmer and longer, which serves to remind us that NOW is actually the best time to kick start your weight loss.
The season of spring is all about rejuvenation. The trees turn from brown to a glorious shade of green, animals come out of hibernation, flowers are in bloom and the birds are singing.
It's a phenomenal time of the year and just as the new season brings with it a newfound lease of life, we're reminded that change is possible.
With summer just around the corner, it's time to shake off that stodgy feeling that comes with winter, put a spring back in your step and embrace the new season with open arms.
This spring we want to help YOU! We want to show you just how easy it is to not only lose weight with The New You Plan, but to keep it off, thanks to the change in mindset that only comes with this plan.
So if you're totally committed to your weight loss transformation, you could drop 2-3 dress sizes* with our NEW 7 Week Spring Transformation Bundle!
Here are the details…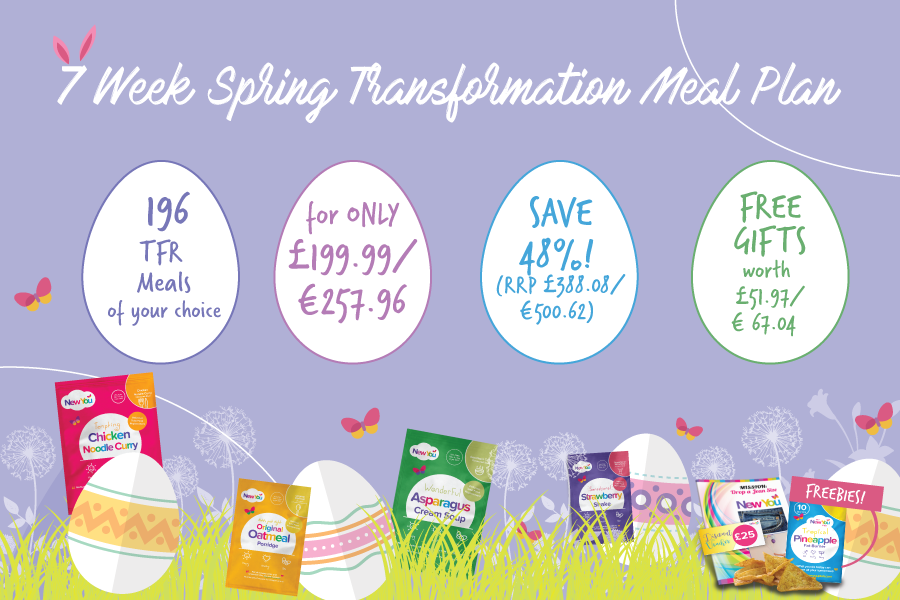 With our 7 Week Spring Transformation Meal Plan, you can drop up to 3 dress sizes* this spring!
As well as your choice of 7 weeks of TFR Meals, we've added in FREE goodies, worth £51.97 / €67.04 to really enhance your New You Plan journey.
With your order, you'll receive the following absolutely FREE:
Drop a Jean Size Journal, worth £14.99

1 box of 10 Pineapple Fat Burners, worth £9.99

£25 off voucher to spend on your next order

x1 Cheddar Cheese Tortilla Chips, worth £1.99
All of this is yours for only £199.97 / €257.96, which is just £4.08 per day, saving you a pretty impressive 48%.
So what are you waiting for!? Start your weight loss journey and change your life today!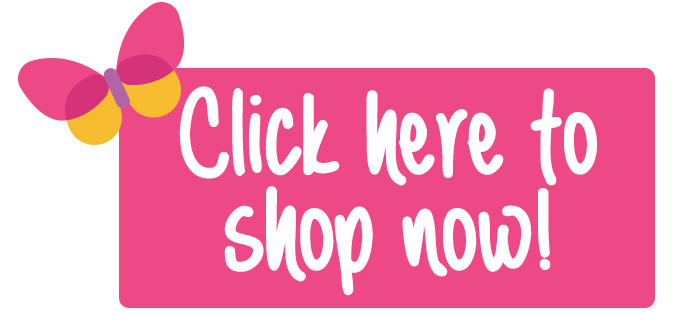 *Weight loss results may vary. This is not a guarantee.
Tags:
before and after
,
customer interview
,
Dieting
,
Health
,
Motivation & Inspiration