Halloween is coming and The New You Plan customers are getting Slim!
On Saturday, the 11th of September, I realised that in exactly 7 weeks, it would be the last Saturday in October, Halloween weekend. Spooky!
Time flies, doesn't it!
7 weeks! Eeeeks! That really is not a long time!
This year has flown by, super fast, and guess what? The next 7 weeks, they are going to fly in super fast too!
So it is up to us to decide what we are going to do in the next 7 weeks!
The time is going to pass anyway, and it is going to pass fast, so we might as well put it to good use, and improve our health, happiness, and habits! 🙂
If you follow our total food replacement diet plan (replace all your conventional food with 4 of our new you plan meal packs) you will be able to create an amazing dramatic transformation!
---
What size would you like to be by Halloween?

I asked in our Secret Slimmers group, and here are some of the answers!
I will be size 14 and a happy wee lady and at the end of my 12 week count down on Halloween. 🙂
I'm size 20 now.. So size 16 will be absolutely wonderful..  It's only week one for me.. Roll on week two. Good luck everyone xo

Oh yes, what a great focus. You so clever!! I want to be 12/14 for the first time in 10 years, woohoo x
Size 18/20 would be amazing for me.
I would like to be – size 12 top and 10 bottom – I only plan to be slim at Halloween x
14-16 would be fantastic but anything smaller than I am now, I'm currently 18-20
Oohhh…..a 14! That would be lovely. Just to put the hard work in to get there, and to enjoy the ride! X
Size 8-10 please!
---
Let's get really committed to creating a jaw-dropping transformation in time for Halloween! 🙂
---
On #SELFIESATURDAY in our Secret Slimmers group on Facebook, I found this post from one of our beautiful slimmers (loved it, btw):
I have found will power I didn't know existed and it's amazing. 25 days and going strong – 27lbs down 




 I just can't believe how I am taking to this. Thank you New You, I am so looking forward to meeting the New Me #SelfieSaturday
When you take each day at a time, and wake up with one goal: To be 100% no matter what, TODAY, amazing things happen. And it gets easier and easier, too. You can find willpower you never thought you had, and start to believe in yourself in ways you never did before!
If you want to make the next 7 weeks an amazing, fun, exciting time of transformation, come and join us, and let us support you on your journey!
Love,

PS:
Don't forget to check out our coming weekend offers! We have meals and crisps from just 98p each in our special offer bundles. These prices and bundles expire on Monday morning! So if you want yours, grab it quick! 🙂 
---
---
New You TAKE TWO – September is like a 2nd chance New Year.
If you started 2016 with a big dream to get slim and healthy, and you haven't achieved your goals yet, do not worry. Now you have the perfect opportunity and amount of time, to end 2016 feeling amazing, and looking slim and healthy!
We have put together 2 special offers, a 3 week meal bundle and a 6 week meal bundle. Get excited about what you can achieve in the following weeks, with our NEW YOU TAKE TWO meals, and watch out for lots of motivation in our daily emails! 🙂
---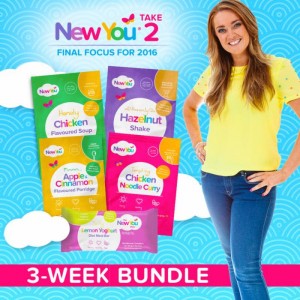 New You Take Two
3 Week Meal Bundle
£99.99 Save 55%
Did you enjoy your Summer Holidays a little too much? 😉
If you want to drop a clothes size fast so that you can look and feel amazing in your new Autumn wardrobe – check out our Special New You Take Two bundle.
21 Days of Total Food Replacement Meals – Enjoy 4 meals a day for 100% RDA Vitamins and Minerals. This really is the easiest, healthiest, simplest way for you to drop a size this month.
BONUS GIFTS – Free Lucky Dip Snack Pack, Blender Bottle & Water Flavouring.
---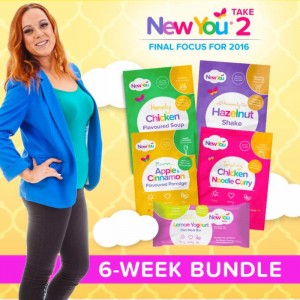 New You Take Two
6 Week Meal Bundle
£199.99 Save 64%
Focused on dropping a couple of sizes before Halloween for a Jaw Dropping Transformation? :-O
Get this meal deal if you are focused on making sure that you do not let 2016 end without achieving what you set out to do.
6 Weeks is a life changing time on total food replacement. You reset EVERYTHING. Your health, style, energy, confidence, motivation, happiness and self belief.

BONUS GIFTS – Free Lucky Dip Triple Whammy Pack! Online Life Coaching Videos, Journal, Blender Bottle, Water Flavourings & Pineapple Fat Burners.
---
---
Tags:
#SelfieSaturday
,
Halloween
,
New You Take Two
,
secret slimmers
,
Secret Slimmers Group
,
Secret Slimmers Group Facebook